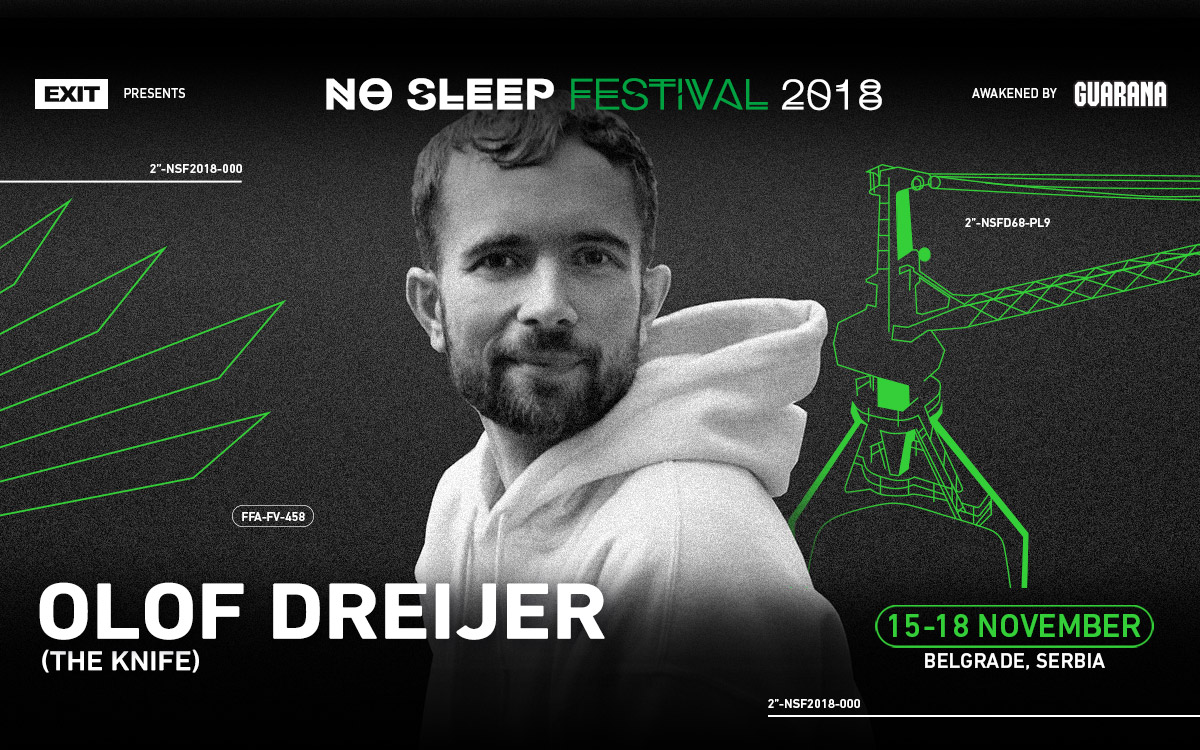 Olof Dreijer, Randomer, François X and about 30 other performers in Drugstore Club for No Sleep Festival!
After the announced killer program of the No Sleep Festival's Main Stage, with Fatboy Slim, Nina Kraviz, Cassius, Lee Burridge and many others who are going to perform in the Main Hangar in the Belgrade Harbor, the time has come for the marathon program of the world-famous club – Drugstore! The list of performers is led by famous Olof Dreijer from the iconic Swedish duo The Knife, where he was joined by his sister Karin, who performed for the first time at this year's EXIT Festival as Fever Ray!
In the popular "techno cathedral", from Friday, November 16, until Sunday, November 18 at noon, we will be able to hear around 30 performers. Apart from Olof Dreijer, leading stars of the new generation of techno will be there, such as Paris star and No Sleep favorite François X, as well as British DJ and producer on the rise – Randomer! Drugstore will become a place of various music styles during No Sleep Festival, ranging from the largest trap party that was ever seen in Belgrade, via afro, bass, acid, electro and house sound, as well as techno parties with some of the most sought-after performers, who regularly made the floors shake in clubs such as Berlin's Berghain or Paris' Concrete.
François X regularly plays both of these venues, and he will take over the DJ booth in Drugstore club in the early hours of the morning on Friday, November 16, closing the ultimate techno night in Belgrade Harbor. The electro genius from Belgrade, MKDSL will join him on this after-party, as well as the b2b duo from the Music Reactions team made up of their residents Betoment and RAR.
The club Drugstore will welcome a huge trap party on Friday night, opening its doors for the most wanted local hip-hop DJ collective Vatra, the trap division of the famous Bassivity publishing house, dubbed Gassivity and the ever more popular young DJ trio FAM! This trap extravaganza will be joined by Surreal, Mili and Fox, while the night will start with DJ Bajko Felix from the Loudpack Zone team whose special guest will be the young rapper on the rise, Elon, who originated with the 197 Gang and whose time is coming! The party that lasts until the morning will turn into a real techno after-party whose program will last for a whole 14 hours on the first night! And while No Sleep Festival continues with daily parties and panel discussions at other locations, Drugstore club will "rest" for the second, even longer night!
On Saturday, November 17, the club will greet us with Saturday fever and styles such as African pop, batucada, kuduro, cumbia, R'n'B, electro, hip-hop, bass house, garage and styles that are hard to describe. This includes the sound of Olof Dreijer, the famous artist from Swedish duo The Knife, whose rare, extremely skilled and euphoric DJ sets represent a real festival rarity reserved for specially chosen places and programs he personally authorizes, and where a variety of musical styles meets gender equality. From afro-remixes of The Knife songs, his set features melodic techno with an unreal production quality which he does under the stage name Oni Ayhun, as well as samples of R'n'B stars such as Beyonce, or even a live recording from a Syrian wedding! He will be joined by Belgrade DJ heroine Sonja Sajzor, whose energetic parties in Drugstore are always full, and to make sure this is the case at No Sleep Festival as well, she will be helped by the well-versed club tandem Vojkan Bećir and Vanja Bursać.
The morning is reserved for Randomer, a British techno star in an unstoppable climb towards the top, whose discography is as rich and varied as his sets, where nothing is static or monotonous. Like the whole night, many styles will serve as a springboard for the high energy festival finale on Sunday morning! Local live techno duo Stepniak, made up of Jan Nemeček and Bane Jovančević, will join Randomer, while the very end of No Sleep Festival, finishing around noon on Sunday, will be brought about by the Concrete DJs team, with Luka Concrete and Bojan Vukmirović in the lineup.
Parallel to the program of the great club, for all those who appreciate traveling through "all-night" sets, the small club will see the performance of leading Drugstore residents, Nenad Marković, better known as 33.10.3402, who will take the DJ booth on Friday evening on November 16, while next day, on Saturday, November 17, the DJ marathon will be started by famous Filip Xavi.
No Sleep Festival, organized by EXIT team, with the help of the popular local Guarana brand, will be held at several locations in Belgrade, while the central events, with high quality production, will be held in the Main Hangar in Belgrade Harbor, receiving several thousand visitors in its industrial environment every night.
Tickets info and prices can be found here.